OPTIMAL SETUP RECOMMENDATION*
Coverage Area 3 ft. x 3 ft.
Height Above Canopy 3 ft.
Distance between fixtures** 3 ft.
*Optimal setup and performance measurements based on CMH 315 Watt System with an EYE HORTILUX 315 CMH lamp. Actual performance may vary. **The distance between fixtures should be measured from the center of the lamp.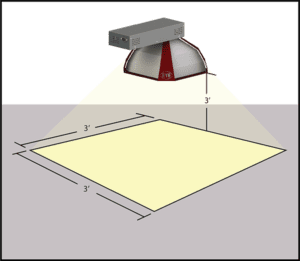 Runs Lamp Wattage1
315W
Weight
15 lbs.
Dimensions
21.7 in. x 14.9 in. x 6.1 in.
(551 mm x 378 mm x 155 mm)
Can Be Air Cooled
Yes
Socket Type
PGZX18 Bi-Pin
Suggested Height Above Canopy2
3 ft.
Coverage Area
3 ft. x 3 ft.
Distance Between Fixtures3
3 ft.
Dimming
No
Cord Length
6 ft. (1.8m)
Open/Closed Fixture
Open
Power Factor
>0.95
Operating Frequency
50/60 Hz
Ballast Type
Low Frequency Square Wave
Ballast Efficiency
95% @ 120V, 97% @ 240V
Ambient Temperature
23 to 104°F (-5 to +40°C)
Total Harmonic Distortion Max
15%
Ballast Input
15A 250V, C14 Style
System Compliance
UL Listed
Warranty
3 year limited
Environmental Protection Rating
None
Country of Origin
Fixture: Assembled in USA
Lamps: Made in USA